Shipping Costs – Emergency Charges
The rise in worldwide container demand, and COVID-related issues has led to a global increase in container delays and costs. The world container index, below, shows the dramatic rise in shipping prices. Rather than implement a general price rise, in response to these rising costs, we had previously included these emergency charges as an additional surcharge, of up to $1 a case, for affected orders on your LCL invoices based on how many cases you ship.
We continue to hope that the global supply problems will be resolved later this year, however, in the meantime we are now increasing these temporary emergency charges from up to $1 a case to an estimated $1.60 a case, these are "pass through" charges.  We have been able to negotiate with our freight carriers that this emergency price should not increase any further in Q2, however, ports and drayage companies continue to increase their charges.  Furthermore, we believe that our agreement will mean less last minute cancellation due to equipment availability from the shipping lines.  Sailings, may of course, continue to be cancelled or delayed.  The change in emergency charges will be effective on all shipments arriving on or after April 1st.
Typically, when we introduce any rate increases, we give customers advance notice.  In this circumstance, the emergency surcharges are already being billed to Elenteny so we are not able to postpone passing on the cost.  We apologize for this inconvenience.
For FCLs, the emergency shipping charges will be included in our quotes.  Previous quotes will remain valid for 30 days from the time of quotation. New quotes will be inclusive of  the new rates and include the possibility of a much smaller emergency surcharge, and they will be passed through on your invoice.
We continued to recommend that our clients allow an additional 4 – 6 weeks for shipping delays.
West Coast Operations 

Update
Delays continue to plague shipments, especially to the West Coast. Beyond congestion both at port and at sea, there have been additional issues as well. Our vendor Hillebrand laid it out well in their update last week:
"…Service levels from shipping lines continue to break poor performance records month after month. Ports congestion, fed by demand , as well as capacity and equipment shortage , imply:
• Waiting time at ports increasing
• Last minute vessel rotation changes, port calls cancelled, terminal changes
• Covid related cases on board forcing ships to change rotation for medical reasons
• Carriers imposing "booking stops" for several weeks
According to SeaIntelligence overall schedule integrity had reached a low 45 % in December!  A record ever, and a serious blow to supply chains …"
Please note that we are doing everything we can to get shipments on the water as quickly as possible, but we do not have control of the factors at sea and are often not notified of changes to vessel's schedules or delays at port. We do track vessels to catch these surprises but are not made aware of every change, so are unable to give you advance notice of compounding delays.
Distribution Updates
All of our warehouses continue to operate with limited staff, resulting in delayed turnaround times for physical requests, special projects, and inbounds. We appreciate your patience and understanding as order volumes continue to increase.
American Shipper published and informative article about the historic import crunch we are experiencing.  Congestion along the West Coast is easing, but it could easily worsen again.
Gallo, the worlds biggest wine company, has plans to open a bottling plant in South Carolina, read details here.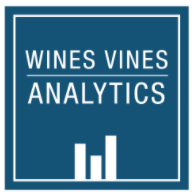 View the key wine industry metrics as of March, at Wine Vines Analytics, "The Leading Source for Wine Industry Data